UBCO Bikes
Transform the way you ride
Surron
Evoke Urban S
Next generation riding experience
Stigo on the go
The world's fastest folding electric scooter
Evoke Electric Motorcycles designs, manufactures and leads development in smart mobility and its applications with safer, faster charging, sustainable and environmentally-friendly powertrains and components.
Next generation riding experience
Evoke Motorcycles achieves the perfect balance between hardware and software by integrating into our proprietary battery technology and powertrain systems with in-house develop IOT algorithms for rider excitement, safety and comfort.
Evoke Motorcycles is unlocking the 100% electric lifestyle through a sophisticated brand, striking electric motorcycles , refined riding experience and enhanced safety.
Powerful yet nimble and with a climbing ability of over 45°, it offers hours of near silent fun with a range of 30 to 100 kilometers per charge (depending on Eco or Sport Mode). Top speed 75 kph, and usually charges in about 3 hours with a powerful 10A charger. 
Sur-Ron is taking the World by storm.  Mid drive electric.  Fast and reliable.
The Electric Light Bee SUR-RON X packs a ton of fun for all terrain riding. 60V and more than 6kW of peak power from a removable Panasonic Lithium ion battery pack. Forged light weight alloy frame combined with hi-spec components. 4 Piston Hydraulic Disc Brakes Front and Rear. LCD dash with USB charger point.
E Power is one of the official sales outlets for these bikes and we are proud to continue the tradition of offering both bikes and upgrade parts.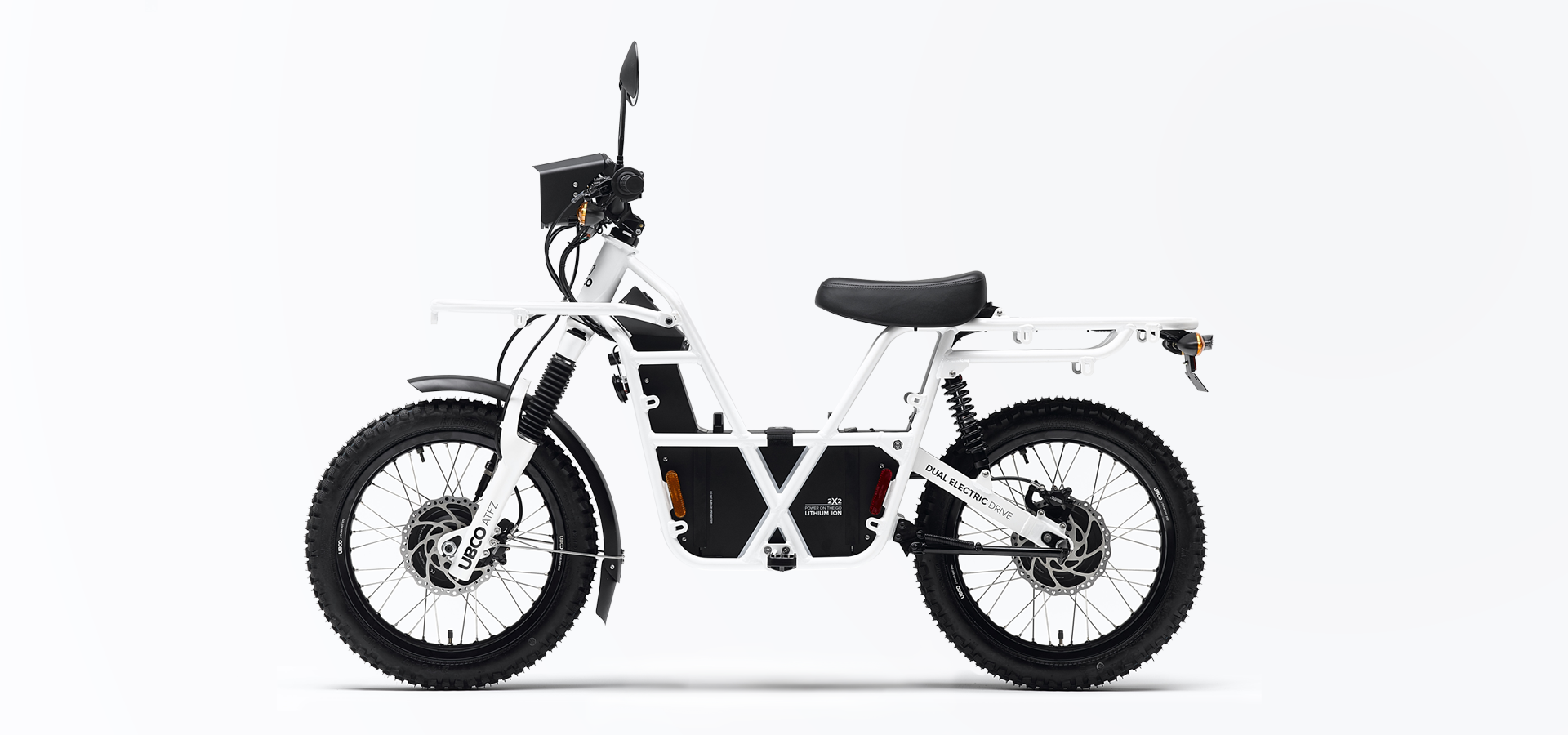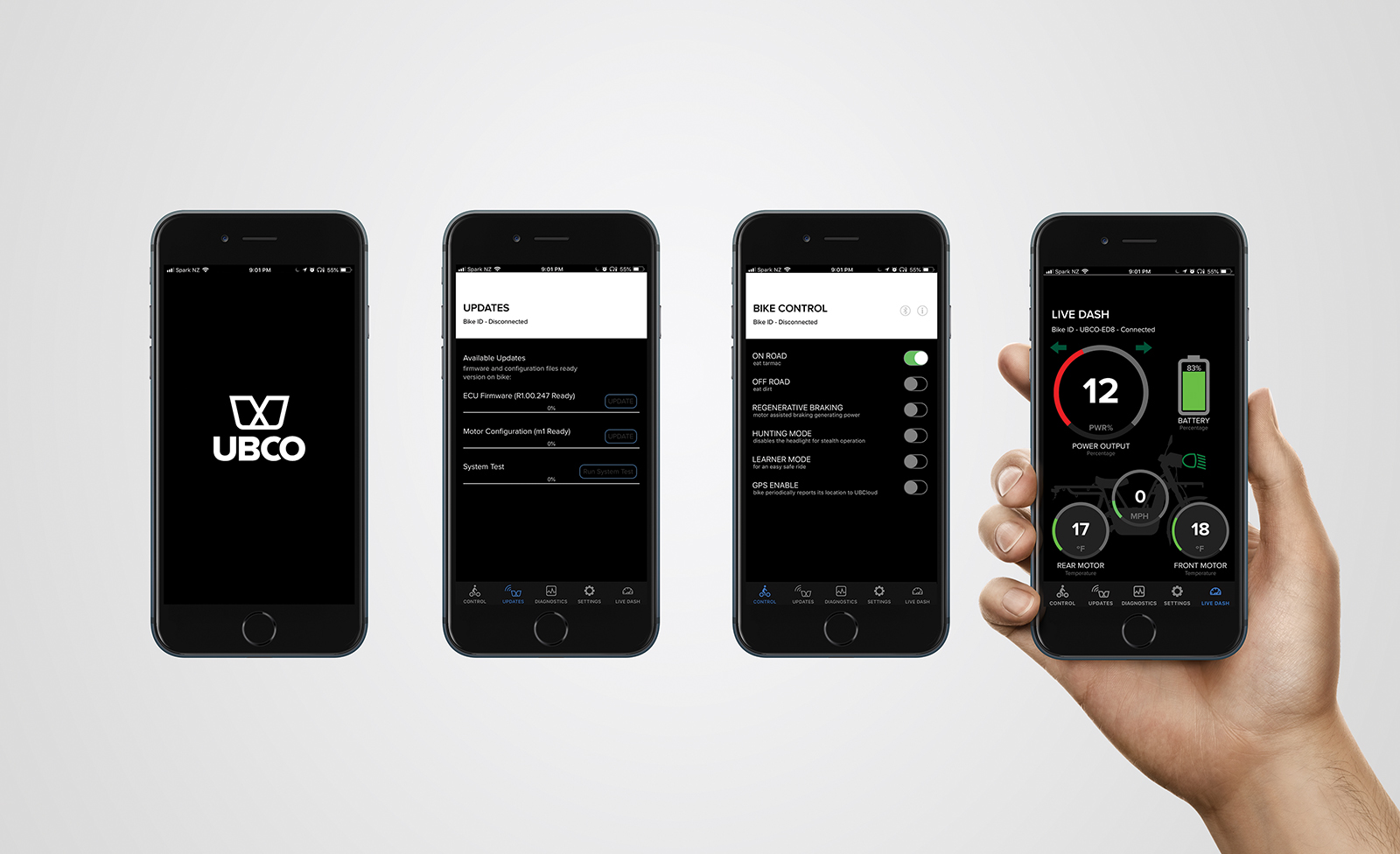 UBCO on the beach
Transform the way you ride
UBCO on the farm
Silent pest control and stock management
Woman on UBCO
A utility bike, for work and play
Two wheels, two motors, no gas, no noise. The UBCO 2×2 will redefine how you ride, work and play, both on and off-road.
All terrain and all performance, you'll say goodbye to the limitations of your environment, and experience the ease of on- to off-road travel.
With its lightweight frame and powerful, near silent motors, the UBCO 2×2 gives you complete control for all your adventures, and is just as capable cruising through the city as it is zipping down your favourite bush track. Whether you're getting the cows in or commuting to work, the UBCO 2×2 is ready to take on whatever you throw at it.
The 48Ah Lithium-Ion Portage Battery System not only fuels the vehicle; it powers all your tools from your phone to your drill (at the same time).
Cart your gear from job to job with ease and adapt the 2×2 as you need it with clever accessory lugs located across the frame. The dual electric drive is smooth, ultra-quiet and low maintenance; it can go through trenches, up hills and over asphalt without a second thought. And all of this with a running cost of under $1 per 120km.
3 News - Comments

It's not just the flash new bike of the future, but possibly the favourite old faithful too.
Dirtrider - Comments - copy
So much about this bike is extraordinary
Dude - Comments - copy - copy

Party till the cows come home? No. In New Zealand you get the cows home first. Then you party. And from the looks of it, the UBCO 2x2 can do both pretty well.
Cleantech - Comments - copy
The UBCO 2x2 utility bike is the SUV of ebikes
Yahoo Auto - Comments - copy
Finally a dirt bike has been developed that serves a purpose after it has stopped running
Real Journeys- Comments - copy

These bikes are the way of the future ...... they're incredibly fun and easy to ride and are a great way to enjoy the back country hills and magnificant hills at Walter Peak.
Anthony Clyde Comments - copy

Uncrate- Comments - copy

Whether it's for work or play, the UBCO 2x2 Utility Bike is ready to take on whatever it encounters.
UBCO – The versatile all electric utility bike
All terrain and all performance, you'll say goodbye to the limitations of your environment, and experience the ease of on-road to off-road travel.
The folding electric bike for urban commuters
Sold across 29 countries, Stigo has now arrived in New Zealand
Stigo gives you the ultimate freedom to move around the city in a quick, hassle-free, and environmentally-friendly manner.
 It's the world's fastest folding, ultra light-weight and portable electric bike. Stigo can be taken anywhere – inside your home, the office, cafes and on public transport (tram, train, bus and ferry).
EPower has been installing and supplying electric vehicle charging equipment since 2014. We are also recommended installers for electric vehicle manufacturers such as Tesla.
Brands that E Power partners with
E Power is an electrical systems engineering and equipment supplier. Our technical skills in customized control solutions provide value for both customers and project partners. E Power is able to provide products and project assistance in the following areas:
Electrical installation  – Industrial automation and maintenance  – Environmental monitoring.
Any questions or enquiries, fill in our Contact Form and we'll get back to you with what we can do to help.
For e-Moto (Stigo, UBCO) enquires and EVSE installation bookings
please use the links above to the correct form.
Thank you.